Episodes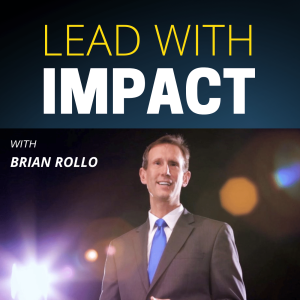 Monday Nov 23, 2020
Monday Nov 23, 2020
Bob Burg shares how a subtle shift in focus is not only a more uplifting and fulfilling way of conducting business but the most financially profitable way, as well. For 30 years he's helped companies, sales leaders, and their teams to more effectively communicate their value, sell at higher prices with less resistance, and grow their businesses based on Endless Referrals.
Bob regularly addresses audiences ranging in size from 50 to 16,000 — sharing the platform with notables including today's top thought leaders, broadcast personalities, Olympic athletes and political leaders including a former United States President.
Although for years he was best known for his book Endless Referrals, over the past few years it's his business parable, The Go-Giver (coauthored with John David Mann) that has captured the imagination of his readers.
The Go-Giver, a Wall Street Journal and BusinessWeek Bestseller, has sold over 975,000 copies. Since its release it has consistently stayed in the Top 25 on Porchlight's (formerly 800-CEO-READ) Business Book Bestsellers List. The book has been translated into 29 languages. It was rated #10 on Inc. Magazine's list of the Most Motivational Books Ever Written, and was on HubSpot's 20 Most Highly Rated Sales Books of All Time.
Bob is the author of a number of books on sales, marketing and influence, with total book sales approaching two million copies.
The American Management Association named Bob one of the 30 Most Influential Leaders and he was named one of the Top 200 Most Influential Authors in the World by Richtopia.
Bob is an advocate, supporter and defender of the Free Enterprise system, believing that the amount of money one makes is directly proportional to how many people they serve.
He is also an unapologetic animal fanatic and served on the Board of Directors of Furry Friends Adoption and Clinic in his town of Jupiter, Florida.
SHOW NOTES
* What Bob learned as a Golden Gloves boxing champion
* Bob's journey to writing The Go-Giver and beyond
* How Bob mastered sales
* Why predictability is key to a successful system
* How success in sales led to creating a speaking business
* Why it pays to shift your focus from getting to giving
* Can you be a Go-Getter and a Go-Giver?
* Why you don't want to be a Go-Taker
* Why people follow (and don't follow) you
* Understanding the Laws of Value and Compensation
* The relationship between quality and quantity
* People act for their reasons, not ours
* The importance of temporarily suspending your self-interest
* Is The Go-Giver still relevant?
* Bob's passion for animal rights 
You can connect with Bob and get an excerpt of The Go-Giver at www.burg.com 
Furry Friends Adoption Clinic: http://www.furryfriendsadoption.com
You can check out Mariah Ramundo's work at mariahramundo.com
You can connect with Brian at www.brianrollo.com. You can find the 10 Habits of Influential Leaders at https://amzn.to/2J6pmwP
Email brian@brianrollo.com to leave feedback, ask questions, or recommend guests for Lead With Impact.  We'd love to hear from you!
Intro and Outro Music: Rise by Punch Deck